Turnabout Sisters is a playable Phoenix Wright: Ace Attorney level in LEGO Dimensions, when you purchase the Phoenix Wright Story Pack.
Walkthrough
Citizen in Peril
In the level he is heard behind a bookcase, use a character with the tracking ability to find an Intelligence port, complete the puzzle to free Larry Butz
Rule Breaker
Abilities Needed for 100% Completion
Minikits and Citizen in Peril
Tracking
Intelligence
Grapple
Guardian Constructs
Sword Switch
X-Ray
Target
Small Hatch Access
Laser
Magic
Hacking
Normal Playthrough
Examination
Intelligence
Objection
Court Case
Evidence
Character Changing (Into Maya Fey)
Section 1 - Investigating
Phoenix enters the Wright Anything Agency to find Mia Fey dead and her sister scared in the corner, Mia's hand falls down with a note reading Maya.
Upon arriving in the Write Anything Agency Phoenix is prompted to jump into the Court Room Portal to access the level. You arrive in the detention center and find Maya Fey, you are prompted to talk to her. When the conversation is over you may explore the room further before saying you couldn't be her attorney but you'd find her one. You then enter the Grossberg Law Office to talk to Marvin Grossberg but find it empty you then leave for the Court Room. You come to the Court Room to find that the judge and prosecutor, Miles Edgeworth, have disappeared, the player is given pieces to the Blank Keystone and then they grab the Investigate Keystone from the Prosecutor's Stand. Once doing so the player will look around for clues to their disappearance until all lights on the toy pad are lit up making the Judge and Miles Edgeworth appear. After that simply use the Court Case to activate the minigame to end Section 1.
Section 2 - More Investigation, More Evidence
Pheonix heads to Bluecorp to see Redd White. When the player arrives at Bluecorp a cutscene plays where Redd talks to Phoenix and then punches him activating a boss battle. To win the player must use pieces from a bookcase to construct an Examination port where the player examines the room to find evidence when enough evidence is found Phoenix can "Object" Redd harming him, rinse and repeat three times until a cutscene plays where Redd will calmly say that he will take witness against Wright in court. In the Court Room Phoenix once again uses the Court Desk to play the Court Case minigame to win the trial and complete the level.
Gallery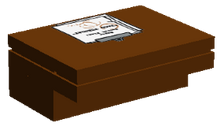 Ad blocker interference detected!
Wikia is a free-to-use site that makes money from advertising. We have a modified experience for viewers using ad blockers

Wikia is not accessible if you've made further modifications. Remove the custom ad blocker rule(s) and the page will load as expected.