The Three Stooges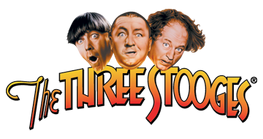 is one of the many franchises in LEGO Dimensions.
Related Characters/Objects
Main Pack
Moe Howard
Larry Fine
Curly Howard
Shemp Howard
Joe Besser
Curly Joe DeRita
Additional Packs
I'll Moider You!

Hammer
Scissors
Crowbar
Broom Handle
Pickaxe
Spear
Extra Stooges

Ted Healy
Vernon Dent
Bud Jamison
Fred Kelsey
Kenneth MacDonald
Emil Sitka
Cy Schindell
Related Characters/Objects (Movie)

Story Pack
Team Pack
Ad blocker interference detected!
Wikia is a free-to-use site that makes money from advertising. We have a modified experience for viewers using ad blockers

Wikia is not accessible if you've made further modifications. Remove the custom ad blocker rule(s) and the page will load as expected.