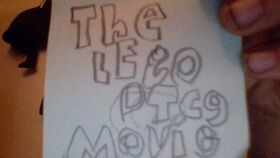 The LEGO DTCG Movie
is one of the many franchises in
LEGO Dimensions
.
Background
Similar to The GameTime Movie, accept a strange evil entity known as The Darkness is threatening to take over Damien The Comment Guy's most favorite wiki: the LEGO Dimensions Customs Community, In order to stop the darkness, he must enlist the help of other users From other wikis.
Packs
Story Pack Levels
Under Construction
The Great Darkness Escape
The Search For The Users
Airfield Chase
Mission: Possible
The Final Showdown
Achievements
The Darkness ♥s Potato Knishes

Complete the story pack with Zooker

Mission: IM-Possible

Complete the level Mission: Possible with Ethan Hunt

The Final Countdown

Complete The Final Showdown, Along With The Final Showdown (TLBM) & The Final Showdown (Ghostbusters 2016)

Fighting Blackfire With Blackfire

Complete The Final Showdown With The Darkness

Fashion Show

Use All Of Damien The Comment Guy's Shirts, or have Gamer kid on the pad in the adventure world
Adventure World
FANDOM

SMG4 Wiki

Rebuild the Episode Theater (80,000 Compliments (The currency in The LEGO DTCG Movie Adventure World/Story Pack)

LEGO Dimensions Customs Community

Custom Showroom/Gateway Build
Idea Machine Room (Restore the "Idea Machine" (70,000 Compliments)

Sonic News Network
Community Central

Hall O' Wikis
FANDOM Help Center (Jukebox = 700,000 Compliments)
The Wiki Factory

Portal Wiki

Aperture Industries (restore the Very Super Secret Darkness Lair Catapult = 75,000 Compliments)

Da- (im pretty sure you can guess)
Midway Arcade Wiki(?)

Midway Arcadefobox
Marble_Madness?action=edit
Health Bar
Normal: The frame is an infobox and the hearts are the LEGO movie one's but green, and the half heart has a bandage on it.
For The Darkness: The frame is a fandom symbol that is half broken and the hearts are the darkness in a heart form (as well as the half heart).
Red Brick
That's So Nice of You! (700,000)
Replaces any Currency with Compliments Currency