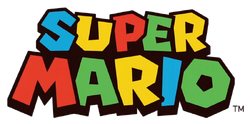 Super Mario
is one of the many franchises of LEGO Dimensions. It is a Sub-Franchise of
Nintendo
.
Related Characters/Objects
Mario Mario

Yoshi
Mario's kart

Mario's Jet
Mario's Tick Tock Bomb
Customs by Abram.boyd.5
Levels
Worlds
Mushroom Kingdom

Princess Peach's Castle

Tatanga's Revenge (Quest from Daisy)
Toad Rescue Time (Quest from Toad)
Peach's Cake (Restoration) 30,000 Studs
Jukebox (Restortation) 15,000 Studs

DK Island

Donkey Kong's Treehouse
Guarding the Hoard (Quest from Donkey Kong)
Barrel Cannon Race (Quest from Diddy Kong)
Banana Hoard (Restoration) 20,000 Studs

Yoshi Island

Yoshi's House
Feed Me Some Cookies (Quest from Yoshi)
Baby Yoshi Egg (Restoration) 10,000 Studs

Luigi's Mansion

Boo Hunt (Quest from Luigi)
E. Gadd's Lab (Restoration) 25,000 Studs

Bob-omb Battlefield

Koopa Foot Race (Quest from Koopa the Quick)
Bob-omb Factory (Restoration) 20,000 Studs

Wario Land

Treasure Finding Race (Quest from Wario)
Mario Tennis Match (Quest from Waluigi)

Dark Land

Bowser's Castle

Princess in Another Castle (Quest from Peach)
Koopalings' Rooms
Bowser Jr.'s Room
Ad blocker interference detected!
Wikia is a free-to-use site that makes money from advertising. We have a modified experience for viewers using ad blockers

Wikia is not accessible if you've made further modifications. Remove the custom ad blocker rule(s) and the page will load as expected.