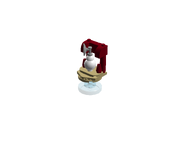 Radar BB-8 is a gadget in LEGO Dimensions. He is the final rebuild of BB-8.
Alternate Skins
Desert Camo
Based on R2-D2
Based on Poe Dameron's X-wing
Abilities
Summon vehicle (Rey's Speeder)

hover
accelerator switches
tow bar

Mini gyrosphere switches
tow bar
sonar smash
Trivia
Like all rebuilds of BB-8, he is fully playable, complete with character tag and health bar.
He is the first gadget outside of the E.T. franchise to summon a vehicle.
The Rey's Speeder that he summons is identical to the one released as a set in 2015.
Gallery
Ad blocker interference detected!
Wikia is a free-to-use site that makes money from advertising. We have a modified experience for viewers using ad blockers

Wikia is not accessible if you've made further modifications. Remove the custom ad blocker rule(s) and the page will load as expected.