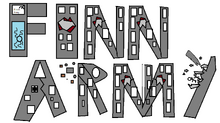 Finn Army is one of several franchises in LEGO Dimensions.
Background
Old York Nation, a civilization with crime for economy, there are two empires: Finn's Army, and Storbert's Army. The armies are against each other, and must normally be prepared for battle. An alliance between the two is legendary, but has happened more than once.
Related Characters/Objects
−
−
−
−
−
− −
−
−
− −
Finn Army Otherworld Story Pack
Music
−
−
Trivia
It shares a character with Crash Potatoes; Doctor Roberto, tying the franchises together.

This is due to Crash Potatoes being a spin off of Finn Army: Finn's Spooky Stories.
Ad blocker interference detected!
Wikia is a free-to-use site that makes money from advertising. We have a modified experience for viewers using ad blockers

Wikia is not accessible if you've made further modifications. Remove the custom ad blocker rule(s) and the page will load as expected.